Sunny Sunday
Today I had an appointment with my dear roommate Daniel, who tends to be a bit feminine, to clean our kitchen. We started by getting all the food stuff out of the cupboards and into garbage bags. This had been laying around for quite some time as the Chinese guy it belinged to had disappeared from our apartment never to show up again. Daniel thinks it has something to do with the London bombings... Freeky!
After our fierce clean-up we went out and joint with three girls and Michael, from Greece to visit the exhibition about Paul Gauguin. One of the girls comes from Germany, obviously, as she is wearing these design glasses (as all Germans do ;o). The other one, Mandy, was from Greece to and lastly I met with a Dutch girl. We immediately found out about our background due to the funny Dutch pronounciation of English words. Like 'ferry' instead of 'very' ...
Paul Gauguin (1848 - 1903) French Post-Impressionist painter
- I shut my eyes in order to see.
The piece I liked in particular is Avenue de Clichy (1887) by Louis Anquetin.
It shows the impact that color has on the feel and sense of a painting. The warmth of the red, the white reflection of the lights and the cold blue night.
Somehow I think I have seen this painting before, done by Vincent van Gogh (Dutch Post-Impressionist painter):
Cafe Terrace at Night
The same holds for the color of clothing, buildings, or visual designs in general.
Marcel Denis's painting of 'Orange Christ' (1890) was also present at the exhibition. Denis being a Synthetist.
Orange Christ
Synthetism
:
Getting away from the surface description by simplifying the objectsin nature to their essential forms and colors.
I like to think about the stages of awareness that we as people go through when observing the visual world around us. Instead of showing full detailed paintings, with the introduction of photography I believe we could do with less information. And still have the same - or better more pure - experience.
This idea became even stronger with the vision of Paul Gauguin, hence his quote on seeing with his eyes shut. His painting "jacob wrestling with the Angel" showed his adoptation of Symbolistic ideas.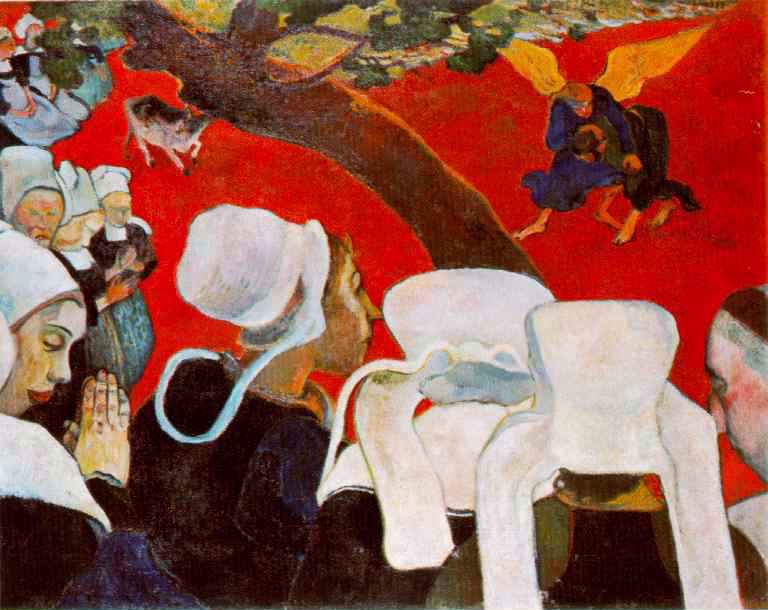 Jacob wrestling with the Angel
Symbolism
:
The ultimate goal of painting cannot be direct representation of objects; rather it was to 'express ideas by translating them in to a special language.'
Jan Verkade (1868-1946) tried this with his paiting 'Saint Sebastian' (1892).
Gauguin demanded a logical structuring of the composition, a harmonious distribution of light and dark passages, the simplification of forms and proportions in order to give the silhouette a strong and eloquent expression.
In all, it had been an inspirational visit to the National Gallery of Scotland.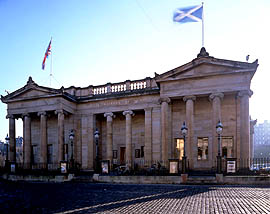 incoming sms message
Hi Willem! How r u 2day? Am about 2 go walk up 1 of city's 7 hills with my sister and her 7 yr old. Fancy it?
Aileen
outgoing sms message
Hi Aileen
Just came down from an exhibition on Gauguin. Are you girls still walking?
Willem
incoming sms message
On way down. Boys rolling! We did Arthur's Seat. Good exhibition?
Aileen
outgoing sms message
Splendid! Got myself some dancing shoes.
Willem
incoming sms message
Not clogs? Look forward 2 seeing u dance in them!
Aileen
outgoing sms message
I,ll be thrilled. You,re quite some woman.
Willem
incoming sms message
Hope you enjoy yr first day at college. R u a bit apprehensive? Exciting tho. Whee! Look forward 2 hearing about it 2moro.
Aileen