Fifth Day of Induction at Edinburgh College of Art
The end of the week is near, we will have been matriculated and inducted.
So to celebrate this there is...
Freshers party tickets
The freshers party on Friday is a ticketed event you can purchase tickets at...
The Freshers Fayre -SRC stall
The SRC office
The wee red bar on Tuesday night.
£4 for freshers
Featuring 'The EGG' live plus djs -
Brainstorm - Edinburgh
Brookes - Bristol
Steve Cato - Manchester
The Corndog - Leith
But before all this party pleasure I received following message that caused me to go see the film:
Woody Allen's Manhattan
and is being screened this Friday evening in the George Sq Theatre for free. Anyone can come along to this screening, there is no charge, in fact there is a lot of free stuff - a goodie bag for all attending and a competition to win a digital freeview box.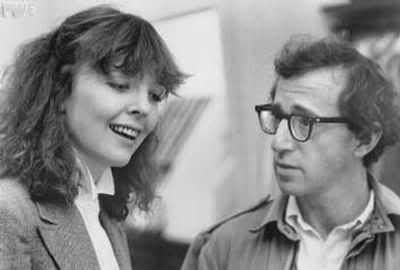 Synopsis of the film Manhattan:
Issac Davis (Woody Allen) is torn between two girlfriends: the very young and earnest Tracy (Mariel Hemingway), and indecisive pseudo-intellectual Mary Wilkie (Diane Keaton). During this time, Keaton also has an on-off affair with Michael Murphy (who had just played another philandering husband in "An Unmarried Woman"). To complicate things further, Allen quits his day job to write a novel, all while he is trying to stop his ex-wife (Meryl Streep) from publishing a tell-all book of their marriage.
Manhattan is remarkable for many things - its glorious all-Gershwin score, its breathtakingly elegant black-and-white, widescreen cinematography by Gordon Willis (best-known for shooting the Godfather movies); its deeply shaded performances; its witty screenplay that marked a new level in Allen's artistic maturity; and its catalog of Things that Make Life Worth Living. But Manhattan is also distinguished in the realm of home video as the first motion picture to be released only in a letterboxed version. You wouldn't want to see it any other way.
Allen's "Rhapsody in Gray" concerns, as his own character puts it, "people in Manhattan who are constantly creating these real, unnecessary, neurotic problems for themselves, because it keeps them from dealing with more unsolvable, terrifying problems about the universe."
It's a romantic comedy about infidelity and betrayal, the rules of love and friendship, young girls (a radiant and sweet Mariel Hemingway) and older men (Allen), innocence, and sophistication. (a favorite phrase is used to describe a piece of sculpture at the Guggenheim: "It has a marvelous kind of negative capability.") The movie's themes can be summed up in two key lines: "I can't believe you met somebody you like better than me," and "It's very important to have some kind of personal integrity."
OK, so they may not sound like such sparkling snatches of brilliant dialogue, but Manhattan puts those ideas across with such emotion that you feel an ache in your heart.